Plug-in concrete vibrators
are essential tools used in construction for consolidating and compacting freshly poured concrete. They offer several important benefits that contribute to the quality and durability of concrete structures. Here are some key reasons why plug-in concrete vibrators are important:
Improved Concrete Consolidation: Concrete vibrators are used to remove air voids and ensure proper compaction of the concrete mix. By inserting the vibrating head into the freshly poured concrete, the vibrations cause the mix to become more fluid, allowing trapped air bubbles to rise to the surface. This process enhances the density and strength of the concrete, reducing the risk of voids, honeycombing, and weak spots that can compromise its structural integrity.
Enhanced Concrete Strength and Durability: Proper consolidation achieved with concrete vibrators results in a denser and more uniform concrete structure. This improved compaction increases the compressive strength of the concrete, making it more resistant to cracking, settling, and other forms of deterioration. Well-compacted concrete also exhibits improved resistance to moisture penetration, freeze-thaw cycles, and chemical attacks, enhancing its overall durability and longevity.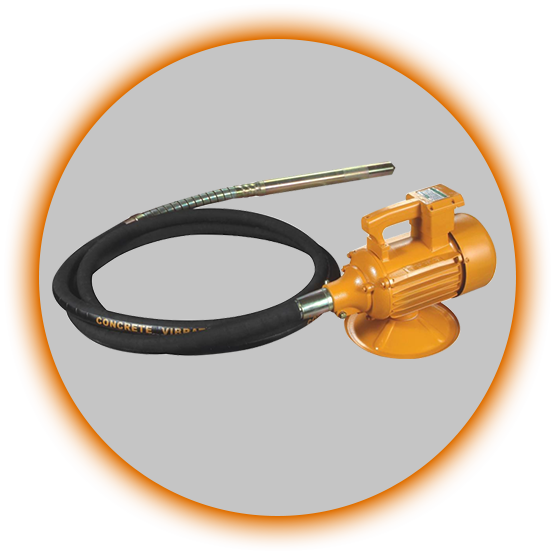 Elimination of Concrete Voids and Segregation: Concrete voids, which are pockets of trapped air or areas with insufficient compaction, can weaken the concrete and lead to structural problems over time. Plug-in concrete vibrators help eliminate these voids by effectively dispersing air bubbles and evenly distributing the concrete mix throughout the formwork. This reduces the risk of segregation, where heavier aggregates settle at the bottom and lighter materials rise to the top, ensuring a consistent and homogeneous concrete mixture.
Improved Workability and Flowability: Concrete vibrators enhance the workability and flowability of the concrete mix, making it easier to handle and place. The vibrations improve the fluidity of the concrete, allowing it to flow more smoothly into intricate formwork, tight corners, and congested reinforcement areas. This results in better filling of the formwork, achieving a higher level of detail and reducing the need for manual compaction.
Time and Labor Efficiency: Using plug-in concrete vibrators significantly speeds up the concrete consolidation process compared to manual methods. The powerful vibrations generated by the tool quickly and efficiently distribute energy throughout the concrete, eliminating the need for time-consuming and physically demanding manual compaction techniques. This saves labor and allows for faster project completion.
Consistency and Quality Control: Concrete vibrators provide a reliable and consistent means of achieving proper consolidation in concrete structures. They ensure uniform compaction throughout the concrete, minimizing variations in strength and density. This improves quality control, as the risk of weak spots or areas with inadequate compaction is reduced, resulting in a more reliable and consistent final product.
Versatility: Plug-in concrete vibrators come in various sizes and configurations to suit different project requirements. They can be used for a wide range of concrete applications, including foundations, walls, columns, beams, slabs, and other structural elements. Their versatility makes them indispensable tools in various construction projects, from residential buildings to large-scale infrastructure developments.
It's important to use plug-in concrete vibrators properly, following manufacturer guidelines and safety precautions, to achieve optimal results and avoid any potential hazards. Regular maintenance and inspection of the tools are also essential to ensure their proper functioning and longevity.